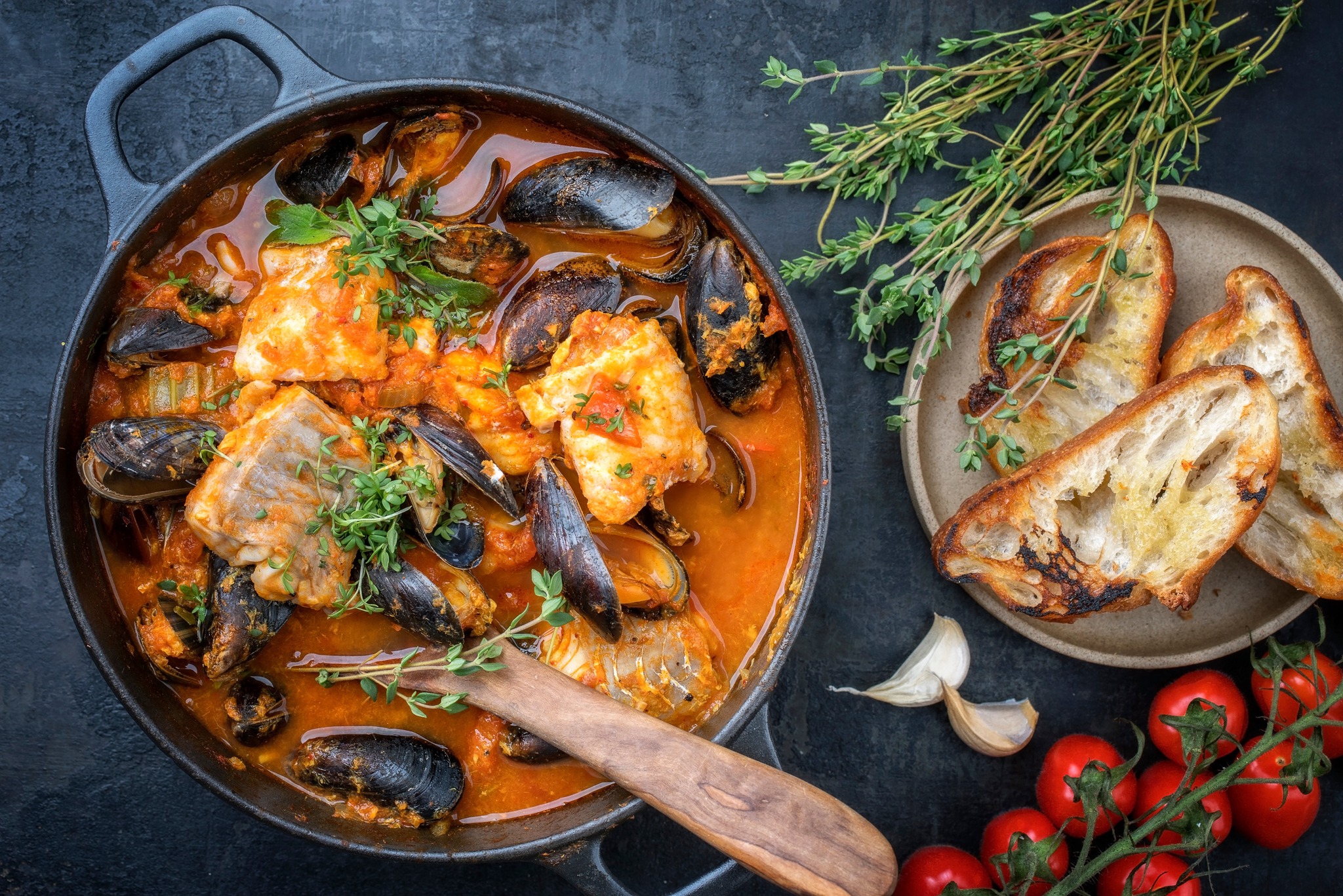 Cioppino is the classic fisherman's stew that originated in San Francisco. It has a special place among Talley family traditions. It is a dish that regularly appears on the Talley dinner table, and each year this recipe is the star of the Pinot-Cioppino Dinner benefiting the Marianne Talley Foundation.
The seafood medley is paired with Talley Pinot Noir and guests enjoy the dish (along with Rosemary's famous cheesecake) as money is raised to support students from Arroyo Grande High School and celebrate the memory of Brian's sister, Marianne.
Ingredients:
2 teaspoons garlic, chopped
2 cups onions, chopped
1 cup green onions, mostly white parts, chopped
1 fennel bulb, chopped (optional)
¼ cup olive oil
1 medium bell pepper, chopped
1 (14-ounce) can tomato sauce
1 (7.75-ounce) can El Pato Tomato Sauce (Mexican Hot Style); alternatively, add a small number of chili flakes or hot sauce to taste
42 ounces canned diced tomatoes (a 28-ounce can plus a 14-ounce can)
3 cups dry white wine
½ cup minced fresh parsley, divided
1 teaspoon salt
½ teaspoon pepper
½ teaspoon oregano
½ teaspoon basil
1½ pounds firm white fish (halibut, sea bass, or cod)
1½ pounds small clams
1½ pounds shrimp, shelled and deveined
1½ pounds mussels
1½ pounds Dungeness crab, cooked, cleaned, and cracked (optional)
Directions:
About 1 hour before serving, prepare the sauce. Sauté garlic, onions, green onions, and fennel in olive oil until soft. Add bell pepper. Add tomato sauces, tomatoes, white wine, half the parsley, salt, pepper, oregano, and basil. Simmer together for 20 minutes. Correct seasoning. The sauce can be made ahead of time and reheated.

Fifteen minutes before serving, reheat the sauce. After it's simmering, transfer about 2 cups of sauce to another pan with a lid. Poach the white fish in the covered pan until done, about 5 minutes or until flaking. This prevents the fish from falling apart in the final cioppino. (It also affords those with shellfish allergies the opportunity to enjoy the dish without any exposure to shellfish.)

Meanwhile, add clams, shrimp, mussels, and crab, if desired, to the first pot of sauce and cook until the shrimp is pink and the clams and mussels open, about 5 minutes. Serve in bowls by placing a piece of fish on the bottom, then ladling sauce on top, including an assortment of shellfish. Sprinkle with the remaining parsley. Serve with good sourdough or French bread for dipping in the sauce.
Wine pairing:
The Talley family loves Pinot Noir with cioppino, our 2018 Estate Pinot Noir is a medium-bodied wine with enough tannic structure and acidity to stand up to the spicy flavors.
If you don't like red wine, try our 2018 Oliver's Chardonnay or 2019 Riesling.