An Expression
Wines Reflective of the San Luis Obispo Coast
Our family farmed estate vineyards harness the terroir of the SLO Coast, allowing our wines to express unique authenticity.
Burgundian style with California influence: approachable minerality, delicate fruit, and refreshing energy.
A fresh take on California Chardonnay with citrus, stone fruit, and vivacity shining through in aromas and flavors.
The Character of
Talley Pinot Noir
As the pioneering Pinot Noir producer in the Arroyo Grande Valley, we made our first wine in 1986 and planted our first vineyard in 1982. We are inspired by Burgundy for its unwavering dedication to wine that perfectly expresses place and time. Our location within California's SLO Coast region imparts a beautiful mix of gentle sunshine and cool weather ideally suited for Pinot Noir.
Talley Pinot Noir tends to be refreshing, energetic, and delicate rather than fruit-laden and oak-heavy. Our Pinot typically expresses aromas of forest floor and violet, cranberry and raspberry on the palate, and an elegant and silky texture.
Aroma
Tomato Leaf
Forest Floor
Violets
Blackberry
Ripe Figs
Flavor
Stems & Herbs
Cranberry
Raspberry
Dark Plum
Cola
Texture
Angular & Grippy
Elegant
Silky
Sappy
Plush
Cultivated with Care for Over 30 Years
Talley Estate
Pinot Noir Vineyards
Explore the nuances of our three estate Pinot Noir vineyards.
Rosemary's Vineyard
Climatically our coolest site, Rosemary's Vineyard tends to produce berries with thicker skins than our other vineyards. The resulting wines have a darker appeal, with a surprisingly light and elegant flavor profile. And because of the unique combination of cool temperatures and shaly loam soil, Rosemary's Pinot Noir has higher acidity that provides incredible length on the finish.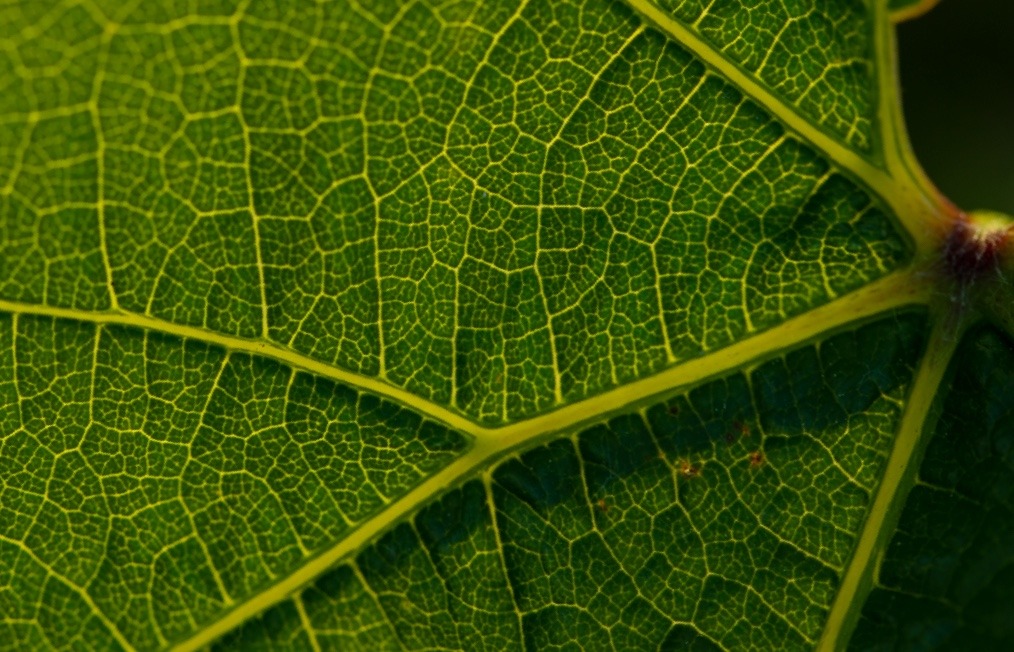 Rincon Vineyard
Our home vineyard and planted by Don Talley in 1982, this is the vineyard you see when you visit our tasting room. With calcareous clay soils, warmer temperatures, and steep hillsides, the vines find just the right amount of struggle to produce Pinot Noir of supple character, subtly savory aromas, and delicious red fruit flavors.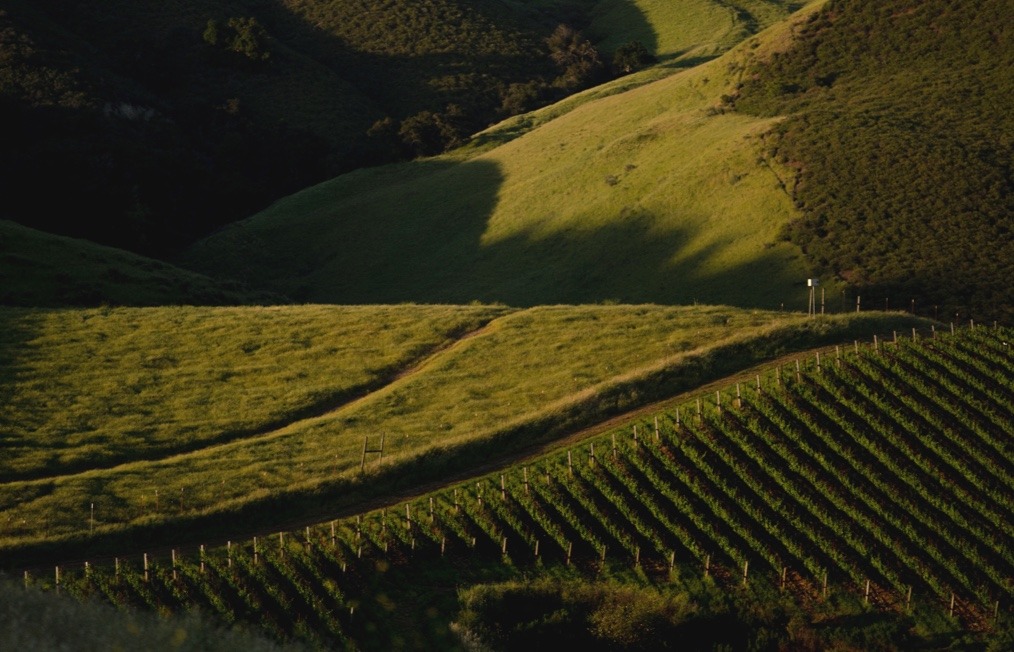 Stone Corral Vineyard
Translated from Corral de Piedra, the name of the land grant that underlay this vineyard and much of the Edna Valley, our Stone Corral Vineyard consistently produces crowd pleasing, delicious Pinot Noir. The combination of sand and loamy clay with moderate temperatures produces Pinot Noir with plum, raspberry, and blackberry flavor components.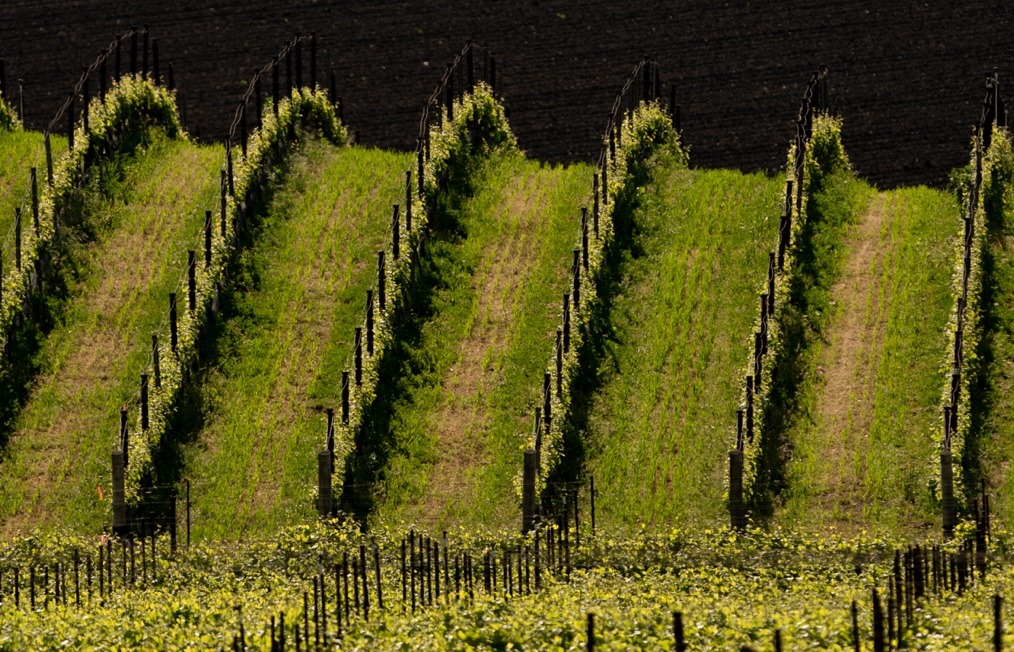 The Character of
Talley Chardonnay
Chardonnay is often referred to as "the winemaker's wine," meaning its style is typically directed by a winemaker's influence. With Talley Chardonnay, instead of overpowering the delicate flavor of the fruit with butter and ripeness, our goal is to craft wines that express the vineyard itself. Our coastal climate, coupled with our hands off winemaking approach, results in refreshingly drinkable wines.
Talley Chardonnay tends to express a unique combination of fruit flavors that make it quite approachable and bright. Citrus flavors and aromas are a constant, with a sleek and supple texture that pairs well with a variety of foods and makes it easy to enjoy more than one glass.
Aroma
Hay
Lemon Zest
Orange Blossom
Toasted Oak
Caramel
Flavor
River Rock
Lemon Tart
Stone Fruit
Ripe Pear
Butter
Texture
Sharp
Sleek
Supple
Creamy
Oily
Cultivated with Care for Over 30 Years
Talley Estate Chardonnay Vineyards
Explore the nuances of our three estate Chardonnay vineyards.
Rosemary's Vineyard
The vineyard that surrounds Rosemary Talley's home. As our coolest vineyard and home to shaly loam soils, Rosemary's Vineyard produces Chardonnay with a higher level of acidity and slightly thicker skin than our other vineyards. Because of this, the wines from this vineyard consistently shine with both freshness and elegance.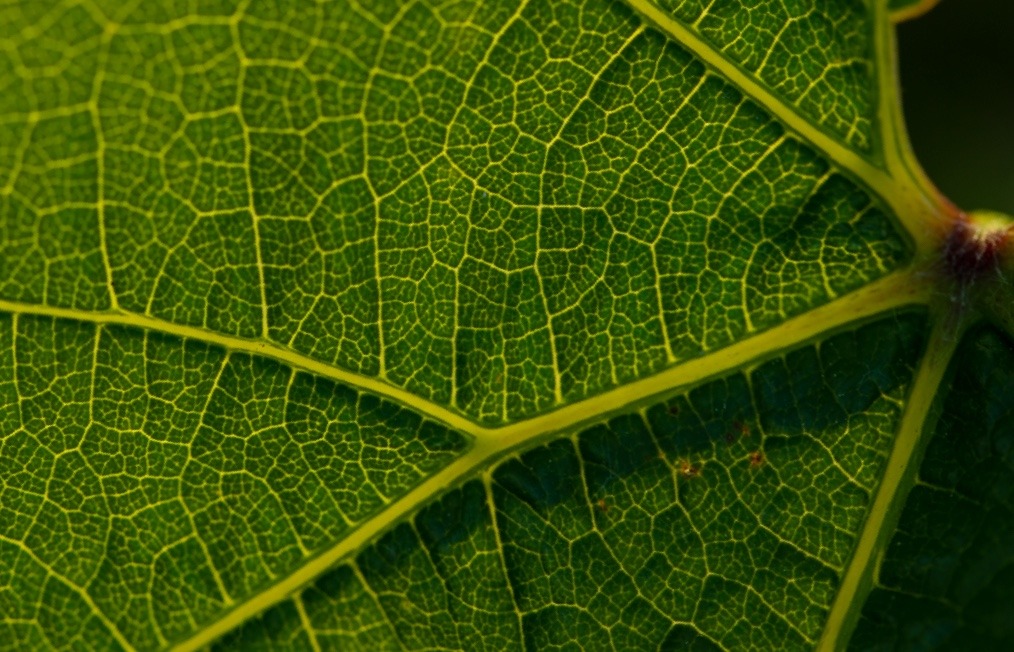 Rincon Vineyard
Rincon is the vineyard you'll see as you drive up to our tasting room. Our very first vineyard, planted in 1982 by Don Talley, it's also our warmest site with calcareous clay and weathered sandstone. This enhances the stone fruit character of our Rincon Vineyard Chardonnay which, because of its lower acidity, is broader and more expansive on the palate.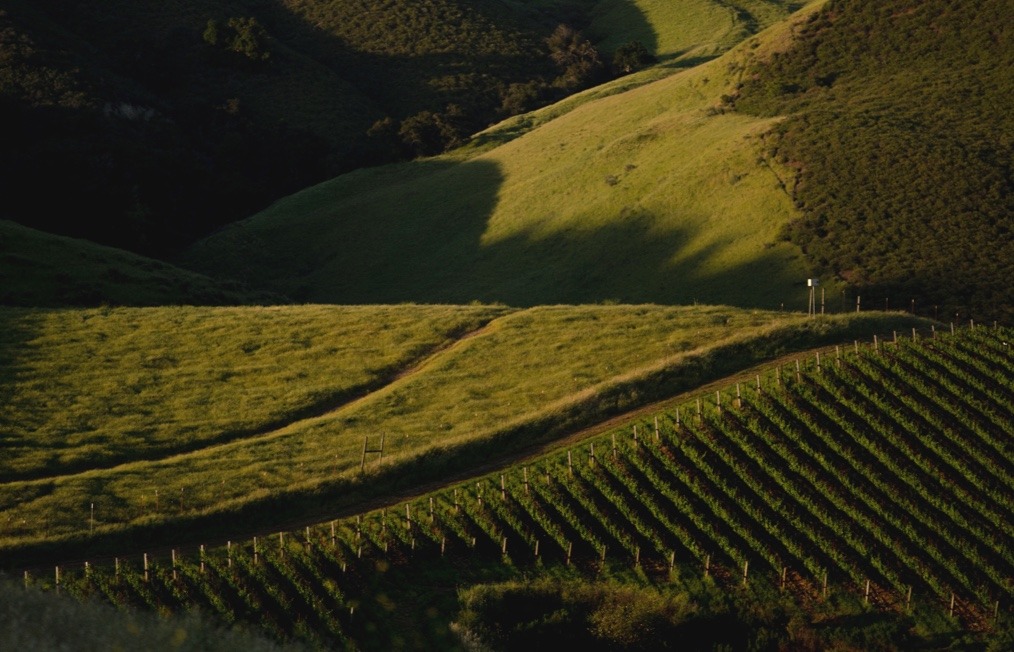 Oliver's Vineyard
Named for Oliver Talley, the first of four generations of farmers and the founder of Talley Farms. We consistently see green apple from Oliver's Vineyard Chardonnay, and it's always our midpoint in terms of acidity and texture–a little softer than Rosemary's, a bit sharper than Rincon. What makes this Chardonnay truly special is that it always tastes great both freshly bottled and with a bit of age.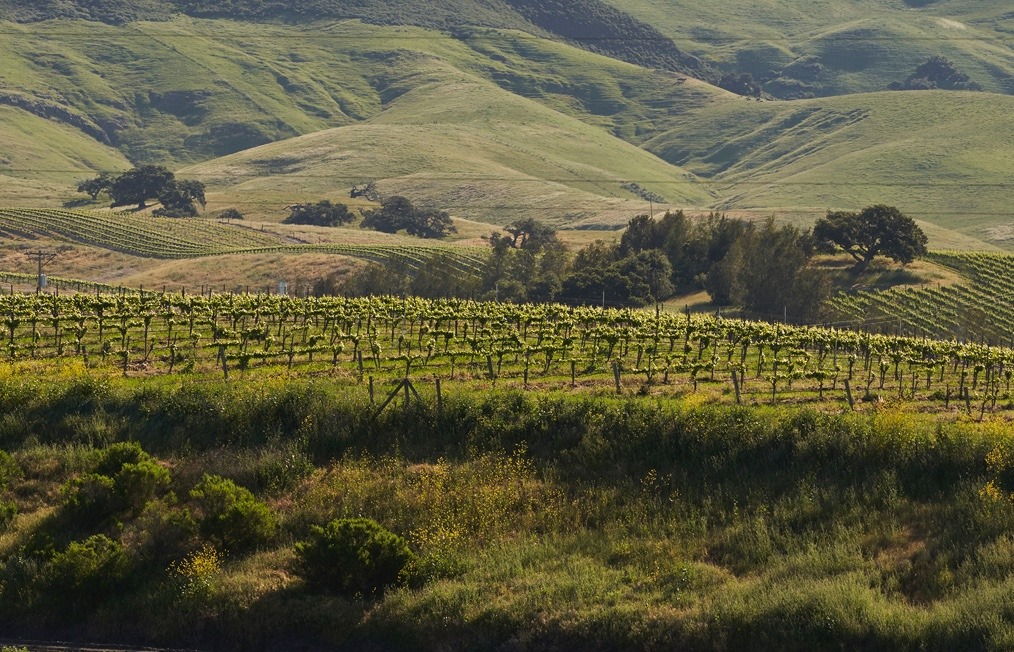 Terroir of Talley Vineyards
Get to know our unique SLO Coast cool climate, soil diversity, and hilly topography.
Climate
The climate is what we hang our hat on in the San Luis Obispo Coast winegrowing region. We are the coolest winegrowing area in the entire state of California, which is perfect for Chardonnay and Pinot Noir because it provides a long, leisurely growing season. A longer time on the vine allows for slow ripening, meaning fruit can reach full flavor development while also preserving acidity.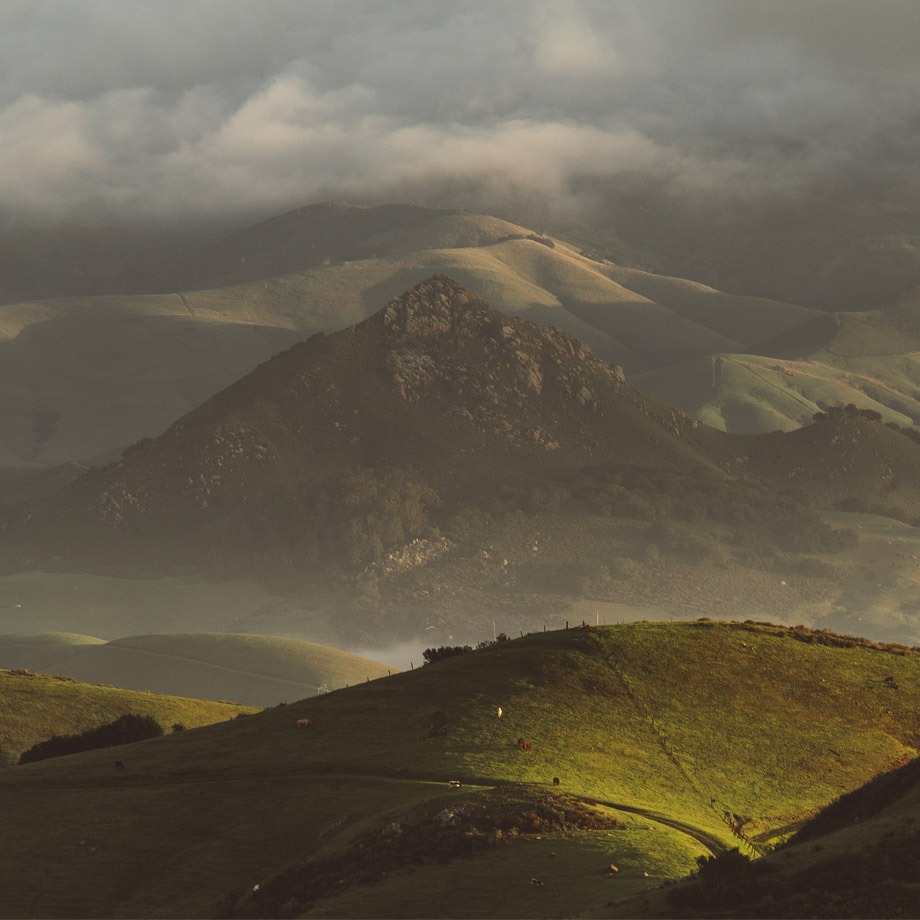 Soil
The soils of the SLO Coast region are remarkably diverse. Just at Talley Vineyards, there is a dramatic difference between the shaly loam of Rosemary's Vineyard, the calcareous clay of Rincon Vineyard, and the sandy clay loam of Stone Corral. Meaning that each wine, grown in a universally cool climate, has a unique story to tell.
Topography
The distinctly rolling hills of the Central Coast are also a defining feature of Talley Vineyards. We consider them to be one of our greatest assets, enabling variation by providing vines with different exposures to wind, sun, and fog. These gently sloping hills allow for excellent drainage, and cause our vines to struggle a bit, leading to more concentrated flavors and nuanced complexity in our wines.
Talley Wine Club
Classic in character yet lively in spirit, we craft Pinot Noir and Chardonnay that are true expressions of our estate vineyards.